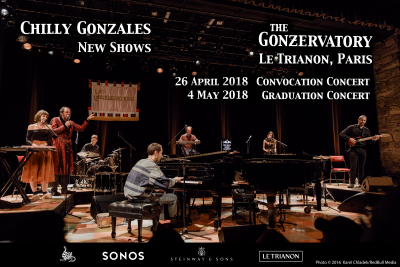 A concert is worth a hundred rehearsals. The adrenalin alone is a force-multiplier of learning. The threat of embarrassment, the shadow of failure, the fog of unresolved tension. But also – the unexpected laugh where you didn't mean a joke, the consensus that leads to mid-song applause, the feeling of musical time simply stopping… None of this can happen while you sit alone in a studio or at your instrument. Music is communication, so we prepare to communicate. Before a concert, we repeat, rehearse, we make a plan, but we KNOW we will tear up the plan.
We need the plan, but then we don't need the plan.
Six performers will meet me in Paris. We will spend 8 days making these meticulous plans on a metaphorical sheet of paper. Come join us at the Trianon, and watch us tear up that sheet of paper. Come join us for 100 rehearsals in 2 hours.
TICKET LINKS HERE :
https://www.letrianon.fr/fr/programme/the-gonzervatory/convocation
https://www.letrianon.fr/fr/programme/the-gonzervatory/graduation
(Thank You, from left to right, to Matilda Abraham, Angus Tarnawsky, Casey Mq, Teacher Assistant Socalled, Dani Shivers – Joona Samuel)